Starting itself as a Kickstarter project on the 16th of April, 2015 and completing on the 16th of May, 2015 with $69,206(USD) in funding by 1,021 backers. The Piccolino marks itself as being the worlds first compact Arduino with integrated OLED, WIFI, SD Card support and 32K of SRAM.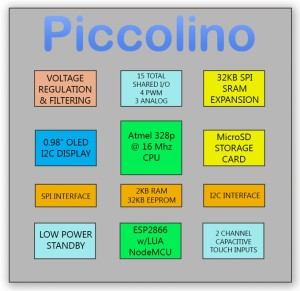 Essentially the Piccolino is a glorified tiny Atmel 328p (16 Mhz) board with an ESP2866 WIFI chip with Lua support, along with a nifty OLED Display.

Starting development with the Piccolino is quite easy and can be done with the official Arduino IDE or with other Arduino style IDE's such as VisualMicro (in Visual Studio), Stino (in Sublime Text 2/3) and embedXcode (in Xcode on OSX).
This getting started guide will be based around the official Arduino IDE, but most steps will be similar in other IDE's.